---
SPRING 2013
You can now get the most up to date Lather news at our BLOG
San Kazakgascar has a new 4-song EP called Drought Times. It was recorded at Hain's home studio and features some quasi-sitar slices of psychedelia.
The Envelope Peasant and the Scientifc Orchestra (Harvester frontman Sean Harrasser's solo persona) will be releasing a new album called Make a Home on May 19!

Speaking of Harvester, the album "Mt. Tallac" will be out sometime this decade. It will be the first Harvester release in a decade. Perhaps the Nude Scientist will be lulled away for an evening from the hallowed halls of academia for a CD release show?
Check out Jed's new occasional improv thing called Swimming in Bengal. They've got shows and live recordings making the rounds...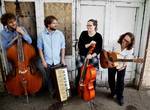 The Scientific Orchestra. Who farted?
**If you're looking for the Chicago-based Jed Brewer, you need to go here. If you're looking for the Sacramento-based Jed Brewer, you're in the right place.**
Check out these reviews of our latest releases:
San Kazakgascar' Idle Ships CD at Incomplete Tales
Lookyloos' You're Looking Very Beautiful Man CD at Fake Jazz
Carquinez Straits' Humiliation Jacket CD at Americana UK
Acme Rocket Quartet's Sound Camera CD at Splendidzine
VIDEO CORNER
San Kazakgascar "The Concrete Dune"
"Tuk Tuk to Nowhere" live
Envelope Peasant "I'm Not Afraid" live
Lookyloos "Nobody Sends Black Flowers" live
Harvester "She Don't Mind That" , "My Buffalo Song" live, "Great Springwaters of America" live
Thornucopia "Death Spa" live
Carquinez Straits "Not Even Storms"
Graves Bros. Deluxe "Neurotique"
DIRECTIONS: HOW TO LATHER
Lather has always offered quick and cheap mail order service. We now accept credit card/Pay Pal orders. You can still pay by check too. For you downloading-types, most of our catalog is still available on Emusic.com and a few are on itunes.