HARVESTER
Annoying Since 1993
Not really intending to be a proper band, Harvester formed in the Fall of 1993 in Chico, CA.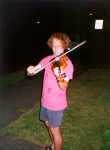 Singer/guitarist Sean Harrasser had previously played in the Vertels and Disaster Scrapbook. Joining him in this loose ensemble were guitarist Terrance Wilson, drummer Joel Valder, and former Thornucopia guitarist Jed Brewer, who began driving up from Davis,CA to play in Sean's apartment. Originally a vehicle to record some songs, Harvester started playing shows (mostly at the Campus Cafe w/ Luke McLuke) without much in the way of rehearsal, fanfare, or quality. The name "Harvester" came from a mispelling on a piece of Sean's mail (Sean Harvester). The three guitar, no bass line-up played most of its songs in the very low C# tuning, making for quite a fun mess. They recorded the Lo-Fi Soccer Camp 7" in December of that year.
In early 1994, formerCase For Radio / Yardstick bassist Todd Steinberg joined the band. Highlights from this period included a show with the Archers of Loaf and a dog-piling mess of a show (w/ acutal dogs, too!) at a backyard ping-pong tournament in Davis. Gary Janssen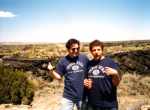 played drums for a few of these shows. That summer, Terrance left the band for a move up to Seattle, and Harvester recorded their 10-song, Granite...What?! cassette. Shortly thereafter, Joel left the band for a life of jet-setting in San Diego. Old Case For Radio singer/guitarist, Kelly Bauman was then recruited to play drums. (He had just bought his first drum set) In the meantime, the cassette had perked the ears of a rep at DGC Records, who came up to Davis to watch what ended up being Kelly's first ever show playing drums in a band. This was early 1995. Said rep was duly impressed with Kelly's stick-work and Sean's circa-1976 sweatsuit, and Harvester was on thier way to the unknown major label band ghetto.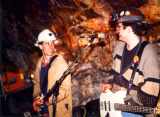 After a performance a mile underground in the 12 to 1 Goldmine (Sierra Nevada Mts.), Harvester recorded its DGC debut, Me Climb Mountain, with Darin Keatley at Enharmonik Skateramp (Sacramento, CA), where they had done all of their previous recording. That summer ('95), Sean moved to Portland, OR, declaring, "Me climb Mt. Hood!" The rest of the band split time between Portland and Northern California - at one point in four different towns. Provided with their new Luke Wood Plumbing Van, Harvester set out on a series of short tours thoughout the western US. Highlights included Timothy Leary at the Viper Room, Jackie - Dust Devils in Austin, opening for the Flaming Lips in Portland, and the giant sand dunes in southern Colorado. Lowlights included the classic/endless series of van problems. They also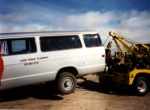 shot a low-budget video for "She Don't Mind That" with former Thin White Rope drummer, Matt Abourezk. After viewing the clip, the head of DGC's video dept, turned to the guys in the band, and said, "You guys need help." Me Climb Mountain was finally released in May 1996, as Harvester celebrated with a co-release show with their pals, Chance the Gardener, at Old Ironsides in Sacramento, CA. The new album, however, died a quick crib-death.
At a showcase in NYC that summer, a young BMI intern asked Jed, "Is Harvester here to stir up label interest?" Jed's reply, "Yes - from our own label." At the end of the summer Kelly left the band to pursue his other band, Death Star, full-time. Jed, Todd, and new drummer, Jon Sebat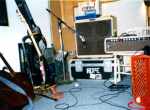 (another old Case For Radio guy!) then moved up to Portland, OR. That same week, Sean became a father. Harvester went down to San Francisco in December '96 and recorded most of their 2nd album, Camper Van Landingham, with Greg Freeman at Lowdown Studio. On the way back from a Southwest tour in March '97, Harvester finished the album, and also released an EP of non-album songs, Congratulations on Your Nudity, on Lather Records. This is around the same time that Harvester heard that they were being dropped by DGC. After a trip back down into California with Portland loonytooners, the Gollipops, Harvester released Camper Van Landingham on Lather Records in September '97.
In 1999 the band returned to commuter status with members living in Oregon, California, and Idaho. They released Mud Is My Ally on Lather Records in the US and Trocadero Records in Europe. Despite their geography, they managed to play West Coast underwear shows with the likes of 16 Horsepower, Acme Rocket Quartet, Forever Goldrush, and Cowboy, among others. The band will begin to record its 4th full-length in early 2000.
After trading tapes in the mail, Harvester recorded Annoying the Waitress in two different sessions in 2000 at Portland's Jackpot! Studio. After the typical delays, the CD was released in June 2001. The album is a predominantly wistful song cycle, including a cover of Bob Dylan's "Boots of Spanish Leather". That summer the band managed to play a few shows with Barbara Manning & the Go Luckys in Northern California. The Go Lucky twins joined the band onstage at Slims in SF for a rendition of "Pequod". 2002 has been a quiet year for Harvester. John finishes his work at the University of Idaho and moves to New York. Todd is starting a family. Sean, along with said family-maker in Portland, have released the debut CD of their other band, Dearest, Crown. Jed has also released a CD with another band, Sacramento's Carquinez Straits.
From points north and east Harvester converged in Sacramento, CA for their 10-year anniversary show in August of 2003. Joining them at Old Ironsides were Los Cuatros Estebans and Sudden Oak Death. The 20-song set was a blast and was filled with the usual pratfalls, tuning marathons, and prom dresses. While the Harvester guys are focused on D.Crown and C.Straits these days, there will still be occasional Harvester shows and maybe even some recordings.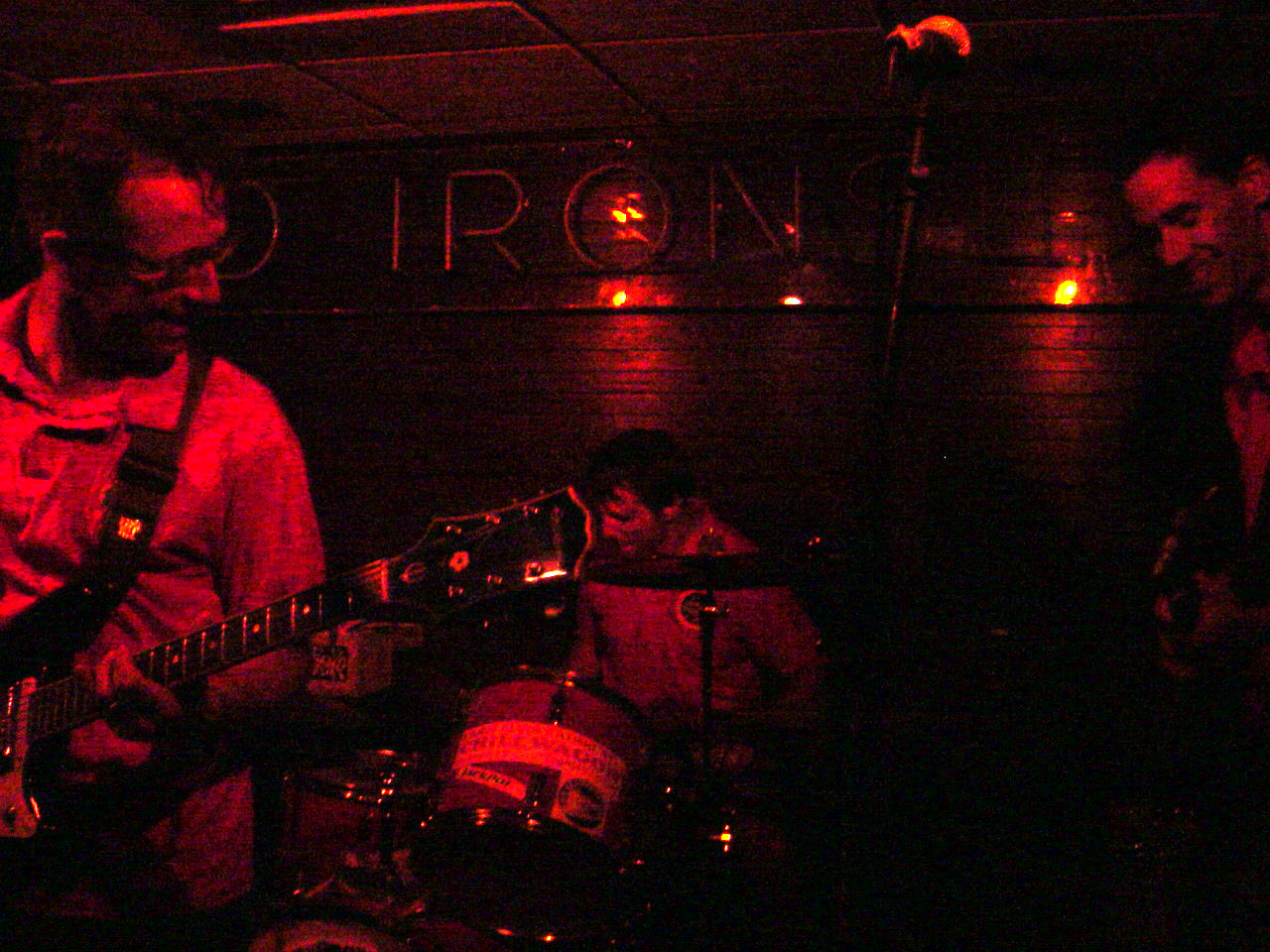 In 2007 Harvester started working on a new album at Fort Lexington Studios in Portland, OR. Because of the usual geography challenge, it has taken awhile. Here we are in 2015 and Mt. Tallac is complete! Read about the mundane details behind its completion at Lather Blog.