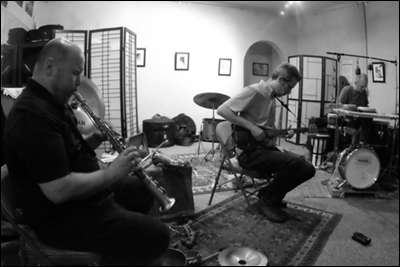 Swimming in Bengal is a Sacramento, CA – based improvisational band consisting of Jed Brewer (guitar), Tony Passarell (sax, horns, bass, ) and Rusi Gustafson (percussion). The band takes some cues from South and Central Asia, but operates in a lawless no man's land of droney psych.
---
Upcoming Shows
Saturday, September 1, 2018
Admissions Party in Sacramento.
Email us for address info.
Monday, September 17, 2018
Luna's Cafe in Sacramento with Tashi Dorji
Saturday, November 10, 2018
Octopus Literary Salon in Oakland
---
Recordings
Volume I on Lather Records (2014)
Insomnia Village on J&C Tapes (2015)
Ashes For Gwynn (Live) on Lather Records (2015)
Garden of Idle Hands on Baggage Claim (vinyl LP) and Lugubrious Audio (cassette) (2016)
Deeper Deeper on Lather Records (CD) and Lugubrious Audio (cassette) (2018)
---
Hear some live sets
Delta of Venus in Davis, CA - 2013
Makeout Room in San Francisco, CA - 2014
---
Press
Features: Submerge, Sacramento News & Review
Reviews: dusted magazine, Raven Sings the Blues, High Bias, Decoder, The Queitus, Space Rock Mountain, Weed Temple, Memory Select, Swirl of Noise
---
Contact
latherrecords@yahoo.com
Facebook • Lather Blog • Lather Twitter